QuoteWerks and ACT! integration errors (1 of 2)
QuoteWerks and Swiftpage Act! integration errors can sometimes be difficult to resolve. In this first of two articles, we look at the common error messages you might receive and more straightforward ways that QuoteWerks and ACT! integration errors may be resolved.
More challenging issues and approaches to finding resolutions are explored in the second article here.
Common QuoteWerks and Sage ACT! integration error messages
The most common QuoteWerks and ACT! integration error is as follows: ACT! must be running before QuoteWerks is started so that QuoteWerks can request the location of the ACT! Database Supplemental File System folder from ACT! Please exit QuoteWerks, and start ACT!, and then restart QuoteWerks. Please correct this issue and do not run QuoteWerks until this issue is corrected. Running QuoteWerks without resolving this issue will result in data inconsistencies between QuoteWerks and ACT!

When clicking Ok, this will be followed by the message: "Your preferred contact manager ACT! is not running. Your preferred contact manager ACT! that you have selected to use with QuoteWerks is not running. It is a good idea to have it running for when QuoteWerks needs it."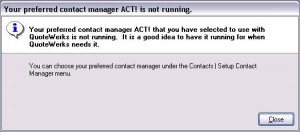 Resolutions to the QuoteWerks and Sage ACT! integration errors
Clearly the message may appear simply because ACT! is not running. Also, ACT! can sometimes take a moment to initialise, so give ACT! a few moments to initialise before starting QuoteWerks. If, however, you are still having problems, then please try the following:
Run the QuoteWerks 'nsetup.exe' program. This executable can be found in the QuoteWerks directory on your PC or server. If that does not work, then try:
Opening Add/Remove Programs from the Control Panel and un-install the QuoteWerks ACT! link (not the 'node', just the ACT! link) before running the QWACTIntSetup.msi (for ACT! 2005-9) or QWACT2010IntSetup.msi (2010-11) installation package to reinstall the QuoteWerks ACT! link. If that doesn't work, then try:
Notes:
When performing the above steps, best practice says to ensure that you are logged into the PC as the Domain Administrator (or that the user has Local Administrator rights) and that no other programs, anti-virus or firewall software is running at the same time.
If you are running QuoteWerks on a server or Terminal Server, then make sure that either 1) the server is in 'Install Mode' before executing the installation packages by running "change user /install" from the command line followed by "change user /execute" once installation is complete, or 2) you run the installation packages from the Add or Remove Programs screen using the 'Add New Programs' option.
In our experience, the above steps resolve 90% of QuoteWerks and ACT! integration issues, and most certainly those relating to the error messages above. However, there are more challenging issues relating to QuoteWerks and ACT! integration that we have come across. Details of these are covered in our next blog article – QuoteWerks and ACT! integration errors (2 of 2)
Afterword
We wrote these article in order to provide both ourselves, other QuoteWerks Solutions Partners and QuoteWerks end users with a single reference point to help resolve QuoteWerks and ACT! integration issues. We have attempted to summarise all of our practical knowledge to-date on the issues that occur and the resolutions that we have found. If you have other solutions or additional detail to add, then please comment or email support@hilltopsit.co.uk and we will add the details to the main posts in order to help future users. Thanks, The Hilltops IT QuoteWerks Support Team.