ConnectIt Pro Key Feature #3 – Multiple Transfer Profiles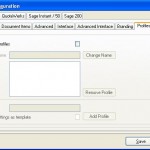 The traditional ConnectIt products have just one configuration; the configuration is highly flexible, but there is just one. If you need multiple types on transfer – perhaps you are running several disconnected systems or perhaps running more than one company which require information presented differently between systems, then you need to either keep changing the settings or install the software twice.
ConnectIt Professional can be configured with multiple Profiles; once each is set up, then at the click of a button, the ConnectIt user can change the Profile that the software is using!